Stories, Poetry and Writing Holiday Workshop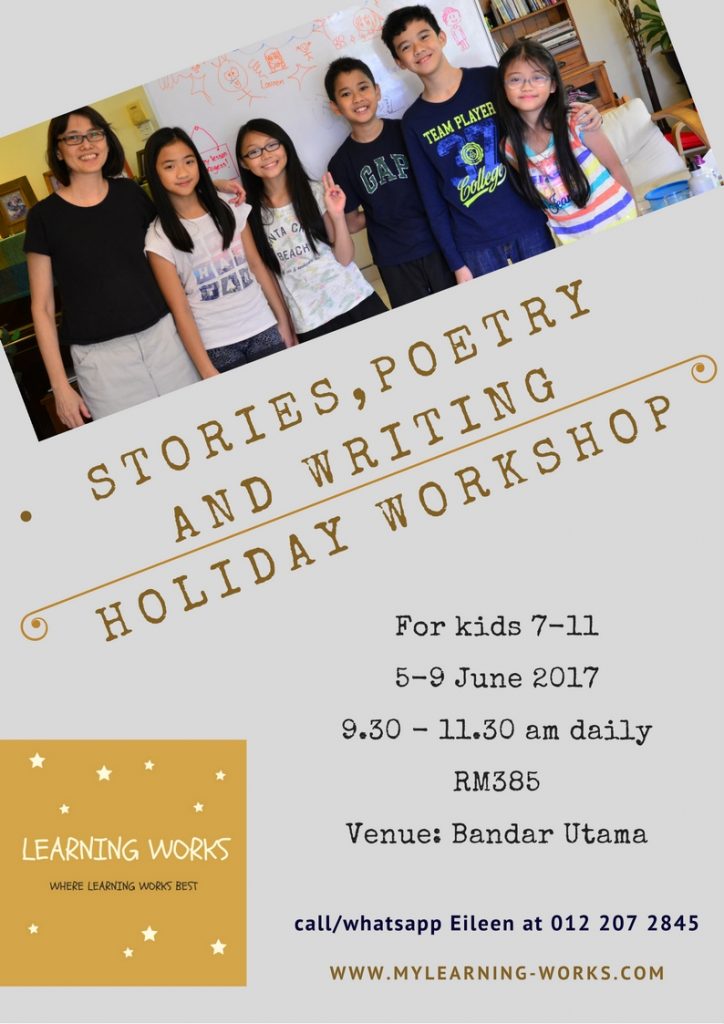 Discover your child's writing potential with our 5-day Stories, Poetry and Writing Holiday Workshop.
Participants will:
Take part in lots of writing exercises and games to get their creative energies going.
Build confidence by writing in a supportive environment and sharing their work with others.
Improve their English and public-speaking skills.
Dates: 5-9 June 2017
Time: 9.30-11.30 a.m.daily
Age range: 7-11
Fee: RM385
Venue: Learning Works in Bandar Utama
Here's what the participants at our previous holiday workshops had to say:
Did you enjoy the workshop?
* Very much yes
* Yes, of course
* Yes
* Yes
* A bit (I didn't like the writing part)
What did you like about it?
* Writing stories and poems
* Shortbread and doing some creative writing
* Playing with my friends
* Playing with my friends and writing. Scaring my friends.
* Writing whatever I wanted
How did you find the teacher?
* I found her great. She was patient and kind.
* Nice
* Really funny
* Our teacher was kind and good. In five days, my teacher never screamed at all! My teacher is very happy and nice.
* Very nice and kind. She also doesn't get mad so fast.
Call/whatsapp Eileen at 012 207 2845 to reserve your space.